Perfection in plastics technology
The production
HAWAMID PA 12G

HAWAMID PA 12G is a tough, hard and wear-resistant high-performance material – the most resistant and least water-absorbent amongst the group of polyamides.
HAWAMID PA 12G is used wherever forces are great and often where additional requirements must be met, such as high dimensional stability, resistance to extreme temperatures and aggressive substances, antifriction properties and low weight. Once the moulded parts have been produced they are machined into gear wheels, friction bearings, runners, pulleys or guides.
If used properly, HAWAMID PA 12G can considerably reduce costs. The part itself will generally be more expensive, but the smaller design, longer maintenance intervals, less frequent complaints, fewer repairs, shorter downtimes and increased product safety more than compensate the higher initial investment costs.
The material properties wear resistance and toughness can be modified through the production process. HAWAMID PA 12G HW produced in the standard production process is extremely hard and wear-resistant.
If an application requires good damping properties, high impact strength and increased elasticity, our HAWAMID PA 12G HI would be an option. This slightly softer grade, however, comes with increased impact strength, lower tensile strength and possibly lower wear resistance.
Under exclusion of air the monomer laurinlactam is molten in 2 autoclaves and mixed with various additives. Not until the casting process are the contents of the two containers mixed together, poured into the pre-heated moulds and returned to the annealing furnace.
After 10 minutes, anionic polymerisation has progressed so far that PA 12G is solid – after 2-3 hours polymerisation comes to an end and the crystallisation phase starts. The casting is kept another 12 to 18 hours in the annealing furnace at approx. 160°C until the crystallisation phase comes to an end. During crystallisation the polyamide 12G contracts and shrinks by approx. 10%.
This elaborate and energy-intensive crystallisation process makes the difference – mechanically and chemically. As a comparison: PA 6 can be demoulded approx. 15 minutes after being cast.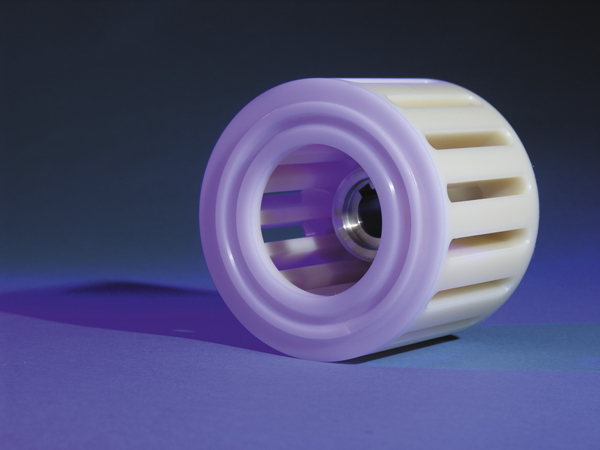 Top: separating rotor for producing fine dusts, operates at approx. 10,000 revolutions/minute. The drive shaft bushing made of stainless has been permanently cast into the separating rotor. HAWAMID PA 12G is wear-resistant to abrasive substances and has a low centrifugal mass.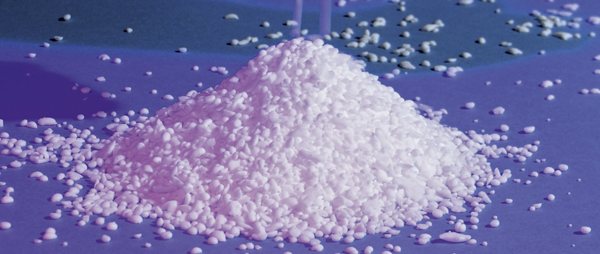 The monomer laurinlactam is supplied in the form of pellets

1 During polymerisation PA 12G is still translucent. A temperature drop of only a few °C during this phase would destroy the not yet fully polymerised plastic.
2 Upon completion of the crystallisation phase the plastic obtains its final colour. Contact with atmospheric oxygen prior to polymerisation will destroy the plastic which will be clearly visible on the surface.
3 A knurled hub surrounded by PA 12 during polymerisation; test arrangement in a beaker
The production of casting moulds
Mould design and construction
Owing to the fact that the casting process is performed under no pressure, mould design and construction requires a high degree of know-how; but by far not the high investment costs associated with e.g. injection moulding. Laurinlactam is a precious raw material. Thanks to the large number of moulds at our disposal and the optimised geometries of the casting moulds, material consumption is kept to a minimum and costs are kept as low as possible.
Pressureless casting method
Unlike PA 12E, HAWAMID PA 12G is produced using a pressureless casting method. The highly liquid, hot PA 12G is poured into the moulds where it distributes evenly. Even metal parts fixed inside the mould such as hubs or shafts are completely surround and embedded. It is not until now that polymerisation begins. Not being subjected to any forced orientation and being free of angle strain, the 12-membered rings of carbon molecules link together to form long molecular chains and subsequently align themselves into a freely orienting crystalline structure – one reason for the high dimensional stability even after being machined. Thanks to this production process it is also possible to produce large, stress-free parts whose wall thicknesses can vary considerably.
During the long annealing phase of up to 20 hours the polymer chains align themselves and form a crystalline, homogeneous and stress-free structure with spherolite structures. This is the secret why HAWAMID 12G differs from other plastics. Depending on the production process, PA 6 reaches a crystallisation degree of between 10% and 60%. HAWAMID PA 12G can obtain up to 98% crystallinity. The higher the degree of crystallisation, the better the capacity to withstand mechanical, chemical and thermal stress. Dimensional stability increases and water absorption decreases to the lowest value amongst all polyamides.
Not until the parts are machined are they given their final shape. HAWAMID PA 12G can be easily and accurately machined – even polished surfaces are possible.
Thanks to its toughness, PA 12G also offers some exciting surprises to the person machining the material. We have decades of experience and will be happy to offer you advice on the optimum approach.