HAWAMID PA 12G – Properties + advantages

Directly to the info
PA 12G has the lowest water absorption of all polyamides
PA 12G absorbs the least amount of water amongst all polyamides: 0.9% in standard atmospheric conditions and only 1.1% when immersed in water (for comparison: PA 6 up to 12%). Where other plastics start to swell and lose their mechanical properties, HAWAMID PA 12G keeps its shape, dimensional stability and resilience. HAWAMID PA 12G is therefore often used for mechanical parts and gaskets in sewage treatment plants, bottling plants or shipbuilding.
By using our development HAWAMID PA 12G + oil, the outstanding material properties can be enhanced yet again to only 0.85% water absorption when immersed in water. Dryness also has no effect on the material properties of PA 12G – whereas e.g. PA 6 starts to brittle.
Owing to its high moisture absorption, PA 6 exhibits lower strength and, due to its swelling behaviour, lower dimensional stability. In the case of frost, there is also the risk of bursting. PA 12G is saturated at 1.1% – this means lasting dimensional stability and strength even in damp environments and at temperatures as low as -50°C.
Wide temperature interval
Even at low temperatures HAWAMID PA 12G does not lose its viscoelastic properties: at -50°C it still exhibits an impact strength of 6 to 8 mJ/mm². A perfect material for vehicle manufacturing, the cableway industry or refrigeration/air-conditioning systems.
Constant up to 120°C continuous operating temperature
Even in hot-temperature environments or heat caused by mechanical stress PA 12G demonstrates its superiority: the elastic modulus remains constant in the case of long-term exposure to temperatures of up to 120°C (for comparison: POM up to 60°C). Manufacturers of washing and electroplating plants utilise this property for themselves and manufacture drive elements made of PA 12G.
Chemical resistance

Chemical-/solvent-resistant
PA 12G exhibits particularly good resistance to alkaline solutions and low-concentration acids. PA 12G is therefore often used in washing plants, bottling plants and enamelling lines or by the petroleum and chemical industry during plant construction. Detailed information on chemical resistance can be found in the "Technical appendix".
Abrasion-proof, material-friendly in the case of metal/plastic pairings
PA 12G is extremely viscoplastic and therefore wear-resistant. The high restoring force can absorb a large amount of energy without resulting in wear. This property is particularly useful when PA 12G is used in combination with metal. If PA 12G is combined with metal, e.g. gear/gear, runner/running track, pulley/cable or sliding bush/shaft, durability can multiply compared to metal/metal applications.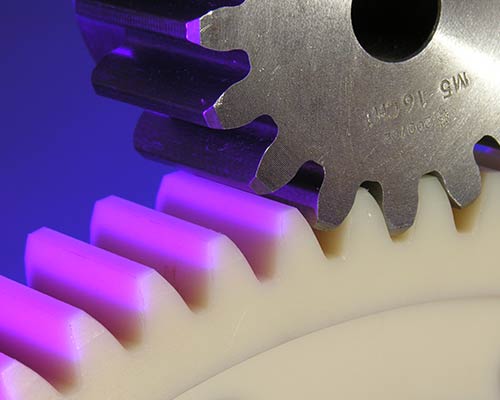 No flattening out, low creep behaviour
A disadvantage of many plastics is their creep behaviour. When subjected to static and dynamic loads, the inner structure changes permanently and does not return to its original shape even after the loads have been removed. Runners made of POM or PET for example start to flatten out and result in vibrations, imbalance and increased wear. Runners made of PA 12G, however, exhibit a high restoring force. Thanks to the spherulitic crystallinity, the material returns to its original shape after having been deformed within the load limit. The smooth running properties of the material are thus preserved. Due to the large contact surface and thus lower surface pressure, wear on the runner and running track is minimal.
Pressed-in ball bearings retain their press fit and do not loosen when subjected to static loads.
Self-lubricating antifriction properties
When subjected to frictional stress, the surface of HAWAMID PA 12G is compressed and polished: This produces a permanent antifriction layer that allows for dry-run operation – without the need of additional lubricants. In the food and textile industry where the use of lubricants is often not possible, mechanical parts such as runners, gears, guides and sliding plates are often made of HAWAMID PA 12G. By using HAWAMID PA 12G + oil, the antifriction properties are enhanced even more
An ideal sliding partner for PA 12G is steel with a surface hardness of >50 HRC. This pairing can withstand higher loads compared to plastic/plastic pairings because the heat that is generated can be removed more quickly. But in this case too HAWAMID PA 12G proves to be the superior material: As can be seen in the diagrams (Vicat-B-50 and elastic modulus), PA 12G keeps its shape even if exposed to a long-term temperature of 120°C.
Wherever the use of lubricants is possible, running-in lubrication is recommended in order to increase operating times.
Weight

Low weight

HAWAMID PA 12G has a density of only 1.025 kg/dm³. As a comparison: steel has a density of 7.85, aluminium of 2.8 kg/dm³. Lower weight means lower centrifugal mass and forces, less energy consumption during acceleration and braking and less wear. HAWAMID PA 12G is therefore often used as a substitute material for steel. Conveying systems, sprockets or gear wheels made of HAWAMID also allow for smaller and energy-saving light-weight design.
Hardly any wear due to optimal damping behaviour
Drive elements made of PA 12G respond to loads elastically: force peaks can thus be cushioned without causing any wear. Wear on the following parts is also reduced. If compressed by 0.1%, PA 12G can withstand a load of 46 N/mm². The ball indentation hardness is 103 N/mm².
Unbeatable impact strength of HW und HI

Depending on the temperature, the impact strength lies between 10-15 mJ/mm², at -50°C still at 6-8 mJ/mm². This value highlights the characteristics of PA 12G: hard and tough across a wide range of temperatures.
Depending on the requirement, we can modify these values through the production process. Our grade HAWAMID PA 12G HW passes through the normal production process.
Our grade HAWAMID PA 12G HI is slightly softer and thus exhibits a higher impact strength.
Hybrid connection

High load transfers thanks to hybrid connection
PA 12G is, with the exception of PA 6/12G, the only high-strength plastic capable of forming positive and non-positive connections with metal. In the case of runners, rollers or gear wheels the special properties in the coating of PA 12G and the special features of metal inside the core are combined in one workpiece.
Food-safe

HAWAMID PA 12G is food safe

HAWAMID PA 12G in the colours natural, black and yellow has been tested for extractable substances (water, ethanol, ethyl acetate, toluene) according to CFR21 Section 177.1500 and been approved for use in food handling applications.